About us
About Dr. Yaser Safi's Clinic
Oral and maxillofacial radiology is one of the specialized fields of dentistry, which is a valuable field for dentists, dental specialists and other physicians, and enables specialized imaging of the oral and maxillofacial area. Oral and maxillofacial radiologists are able to establish such an institute according to the criteria and provide the necessary services in this field. This field is related to technology and following the advancement of technology in the last century, this field has also developed significantly and is considered as the second eye of the dentists. Oral, maxillofacial and facial radiology is one of the most important and practical paraclinical measures in diagnosis and treatment plan.
Dr. Yaser Safi Oral and Maxillofacial Radiology Center started operating in Tehran in 2010 and started working with the latest imaging technologies, simple digital radiographs and CBCT. This center is one of the first full-digital centers in the country, which always seeks to provide the best services and the latest technologies. Therefore, among the innovations of this collection in this regard, we can mention the invention of several intraoral retainer films to better evaluate teeth and better quality of radiographs, several CBCT imaging methods and image reconstruction. It should be noted that all these cases, along with other services of this center, have provided significant assistance to dentists in the field of evaluation, diagnosis and treatment plan.
The center also provides all specialized services for oral, maxillofacial and facial radiology by experienced personnel in a relaxed environment. These services include full-digital intraoral and extraoral radiography, CBCT with wide radiation field and low radiation dose, scanning of all maxillofacial area and paranasal sinuses, specialized dentistry, rhinoplasty, Oral and Maxillofacial Surgery photography, intraoral and extraoral ultrasound, Infrared and Fluorescent imaging for Diagnosis and treatment Plan for dental caries.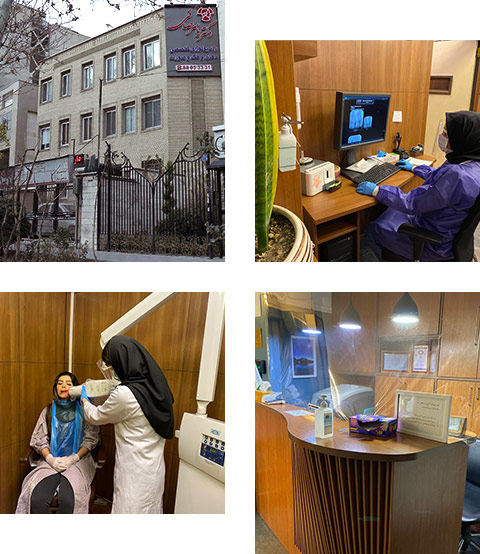 The performance of Dr. Yaser Safi Oral and Maxillofacial Radiology Center at a glance
Clinic Performance
Oral and Maxillofacial Radiology Center Dr. Yaser Safi